07. 03. 2014

Synopsis:
Tell me your story June….
June thought she had it all. She soon found out how wrong she was. Her dreams of finding the good life were washed away when she was dumped on the sandy beaches of Mexico. Now back in Boise as an overeducated server, she doesn't even know where to begin on fixing her life.
But one thing June does know is the new guy at work is one to stay away from. Reece Day catches June's attention, even if she doesn't want it. Reece has the uncanny ability to always get in the last word, to get under June's skin, making her question what she really wants in life.
June quickly realizes that for the first time in her life, she finally has the chance to find herself.
Excerpt:
Frustrated, I pushed past by her, swinging the container of tomatoes and not paying attention. Not paying attention in a restaurant is always a bad idea. Always. I had tunnel vision because of my frustrations with Jolene, so as I swung the square, hard plastic container, I didn't know someone had come from the other direction and was following. Nope, sure didn't know that when I swung the container back … and heard a loud grunting noise. The sound was so close I jumped and gave a little shout as I turned around to see the man with a staring problem leaning over.
"Oh, shit, are you okay?"
He slowly rose up, a pained expression on his face. Even with the grimace, this guy was hot. He was a little over six feet with dark brown hair that was bordering on being shaggy, and his eyes were a stunning moss-green. An image of a forest floor crossed my mind. He was built, but not in the obscene way of a bulky football player, rather as a guy who worked hard and played hard.
"I'm fine, but I never thought I could say I had been hit in the balls with a container of tomatoes."
My face blushed as red as the tomatoes in my hand. I had no idea that was where I had hit him, and my mind went from noticing how hot he was to being extremely embarrassed.
"I am so sorry. I totally didn't mean to."
Hot guy laughed a bit. "I would hope not. Unless that's how you welcome people here, with vegetables to the balls."
"Tomatoes are fruit." Oh yes, I totally said that. Hit a hot man in the balls and then correct him; always a great way to make an impression. I knew at that moment I had a deer in the headlights look. Hearing my name in the window being called for hot food, I briskly turned and walked away, completely avoiding him and the situation.
Giveaway:
06. 03. 2014
Title: Better When He's Bad (Welcome to the Point #1)
Author: Jay Crownover
Genre: New Adult
Publication Date: June 17, 2014
Publisher:William Morrow an imprint of HarperCollins Publishing
Event Organized by: Literati Author Services, Inc.

Synopsis
Welcome to the Point
There's a difference between a bad boy and a boy who's bad . . . meet Shane Baxter.
Sexy, dark, and dangerous, Bax isn't just from the wrong side of the tracks, he is the wrong side of the tracks. A criminal, a thug, and a brawler, he's the master of bad choices, until one such choice landed him in prison for five years. Now Bax is out and looking for answers, and he doesn't care what he has to do or who he has to hurt to get them. But there's a new player in the game, and she's much too innocent, much too soft…and standing directly in his way.
Dovie Pryce knows all about living a hard life and the tough choices that come with it. She's always tried to be good, tried to help others, and tried not to let the darkness pull her down. But the streets are fighting back, things have gone from bad to worse, and the only person who can help her is the scariest, sexiest, most complicated ex-con The Point has ever produced.
Bax terrifies her, but it doesn't take Dovie long to realize that some boys are just better when they're bad.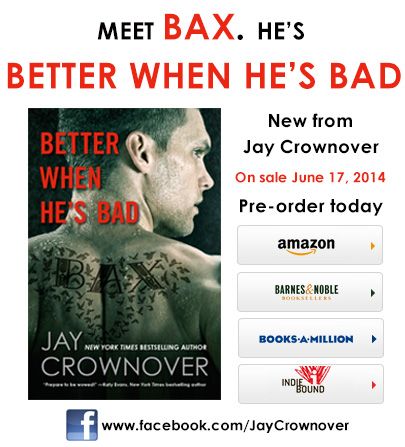 Pre-Order Links:Amazon | Barnes & Noble | Books-A-Million | IndieBound
About the Author
I'm supposed to share interesting details about myself so that my readers get to know me so here we go in no particular order: I'm an natural redhead even though I haven't seen my real hair color in years, I'm a big fan of tattoos and have a half sleeve on either arm and various other pieces all over the place, I've been in the bar industry since I was in college and it has always offered interesting insight into how men and women interact with each other, I have 3 dogs that are all crazy, I live in Colorado and love the snow, I love music and in all reality wish I could be a rock star not a writer or a bartender but I have zero talent so there is that.
I love to write, love to read and all I'm interested in is a good story with interesting characters that make the reader feel something.
Connect with Jay:Facebook | Twitter | Website | Goodreads
06. 03. 2014
Title: Against All Odds (Standalone)
Author: Angie McKeon
Genre: Adult Contemporary Romance
Release Date: Early April, 2014
BLURB:
Our lives shattered… Our hearts broken… Our souls torn to pieces…
He was my world, my whole life. My reason for breathing. I had a perfect marriage, a baby on the way, and I felt fulfilled—almost invincible.
Until the day life hit, leaving me broken, vulnerable, and alone.
She was my life. My ray of hope on the cloudiest day. With her, I thought I had the ultimate safety. A love that would never hurt or betray me. I gave her my heart, my body, and my soul.
Until she broke me, destroying every dream and illusion I had about life, love, and marriage.
In our grief, we made a mistake. A mistake I'm not sure we can come back from.
Prologue
I'm so cold. It's the kind of cold that seeps into my bones and makes me feel as though I'm going to die. My body trembles from the drugs and sheer terror coursing through my veins.
Why is this happening to me?
What did I do to deserve this?
Please, God! I can't handle it.
I open my mouth to scream, to cry, to do something, but nothing comes out. I'm aware of doctors and nurses surrounding me. They've placed Kayla on my chest. She's still warm from being pulled from my body, but she's not moving.
She's lying there . . . lifeless.
I'm in a state of disbelief as tears slide down my face. My world shatters when I look at my precious baby girl. She's everything I've always wanted, always dreamed of.
Slowly, I run my fingers over her delicate lips; they're so soft and small. An instant reminder of Cooper's lips. He doesn't have full and luscious lips like mine but small ones that almost disappear when he smiles. As I run the tips of my fingers across her puffy cheeks and closed eyes, I try to memorize every last detail of her dainty face. She's so beautiful it takes my breath away. Her hair reminds me of caramel; it's light brown and silky to the touch. It looks like mine did when I was a baby. Her face is peaceful, and for a single moment, I'm so thankful she's not in pain.
Looking at my little girl is a moment I've always dreamed of. I love her instantly, and I want to hold her forever. To breathe her into me. To never let her go. The realization that I'll never hold my precious baby again sinks in, and I feel my stomach clench as pain rips through me. I'll never get to see her smile, laugh, roll over, or take her first steps. I'll miss it all.
How do I move past this?
Can I move past this?
As grief consumes me, my sobs become brutal. I feel as though I'm dying. Like my heart is burning up and turning to ash. I'll never ever be whole again.
I pick her up and cradle her against my body, wanting to feel her skin against mine. She feels warm—soft and smooth, like velvet. As I curl my arms around her, my tears drip onto her perfect head. I feel an overwhelming urge to fix this, to bring her back. I don't want to lose my sweet baby. Everything in my body, my soul is screaming to bring her back.
Desperately looking up at Cooper's green eyes, I will him to fix this, to make it better and help me. Help her. He's always been my rock, my glue, the person who makes everything better. But all I see in his eyes is sadness, desperation, and helplessness that I know is killing him as much as it is me.He rubs his big, shaking hand gently over her tiny head. He looks as though he's being tortured. Sobs rip through his body as he wraps his arms around me and our precious bundle while climbing into bed with us. I feel myself collapse against his chest as we sob over our loss.
There's nothing we can do.
This is the end of a shattered dream.
Our spirits are slowly dying, and I'm not sure we'll ever be able to heal.
Giveaway
06. 03. 2014
It's Time!! The STONE COLD TOUCH cover is here!
We cannot wait to share the cover for Jennifer L. Armentrout's STONE COLD TOUCH with you all! STONE COLD TOUCH is a young adult paranormal romance by Jennifer L. Armentrout and is the second full-length novel in The Dark Elements Series being published by Harlequin Teen. You'll want to add this to your TBR pile ASAP. Check out this amazing cover!
Isn't it awesome?! You can Pre-order it right now!
STONE COLD TOUCH Synopsis:
Every touch has its price
Layla Shaw is trying to pick up the pieces of her shattered life—no easy task for a seventeen-year-old who's pretty sure things can't get worse. Her impossibly gorgeous best friend, Zayne, is forever off-limits thanks to the mysterious powers of her soul-stealing kiss. The Warden clan that has always protected her is suddenly keeping dangerous secrets. And she can barely think about Roth, the wickedly hot demon prince who understood her in ways no one else could.
But sometimes rock bottom is only the beginning. Because suddenly Layla's powers begin to evolve, and she's offered a tantalizing taste of what has always been forbidden. Then, when she least expects it, Roth returns, bringing news that could change her world forever. She's finally getting what she always wanted, but with hell literally breaking loose and the body count adding up, the price may be higher than Layla is willing to pay…
"Constantly entertaining…the narrative sizzles with as much tension as romance."
—Kirkus Reviews on White Hot Kiss
And…Don't forget to check out the first book in The Dark Elements Series,
WHITE HOT KISS!
ABOUT WHITE HOT KISS:
One kiss could be the last.
Seventeen-year-old Layla just wants to be normal. But with a kiss that kills anything with a soul, she's anything but normal. Half demon, half gargoyle, Layla has abilities no one else possesses.
Raised among the Wardens—a race of gargoyles tasked with hunting demons and keeping humanity safe—Layla tries to fit in, but that means hiding her own dark side from those she loves the most. Especially Zayne, the swoon-worthy, incredibly gorgeous and completely off-limits Warden she's crushed on since forever.
Then she meets Roth—a tattooed, sinfully hot demon who claims to know all her secrets. Layla knows she should stay away, but she's not sure she wants to—especially when that whole no-kissing thing isn't an issue, considering Roth has no soul.
But when Layla discovers she's the reason for the violent demon uprising, trusting Roth could not only ruin her chances with Zayne…it could brand her a traitor to her family. Worse yet, it could become a one-way ticket to the end of the world.
About Jennifer L. Armentrout:
# 1 NEW YORK TIMES and USA TODAY Bestselling author Jennifer lives in Martinsburg, West Virginia. All the rumors you've heard about her state aren't true. When she's not hard at work writing. she spends her time reading, working out, watching really bad zombie movies, pretending to write, and hanging out with her husband and her Jack Russell Loki.
Her dreams of becoming an author started in algebra class, where she spent most of her time writing short stories….which explains her dismal grades in math. Jennifer writes young adult paranormal, science fiction, fantasy, and contemporary romance. She is published with Spencer Hill Press, Entangled Teen and Brazen, Disney/Hyperion and Harlequin Teen. Her book Obsidian has been optioned for a major motion picture and her Covenant Series has been optioned for TV.
She also writes adult and New Adult romance under the name J. Lynn. She is published by Entangled Brazen and HarperCollins.
04. 03. 2014
Synopsis:
When life crashes down around us, how hard are we willing to fight for the one thing we can't live without, each other?
Life is full of moments.
Big moments.
Little moments.
And none of them are inconsequential.
Every single moment prepares you for that one instance that defines your life. You must overcome all your fears, confront the demons that chase you, and cleanse the poison that clings to your soul or you risk the chance of losing everything.
Mine started the minute Rylee fell out of that damn storage closet. She made me feel. Made me whole when all I thought I could ever be was incomplete. Became the lifeline I never knew I needed. Hell yes, she's worth the fight…but how do you fight for someone you know you don't deserve?
Love is full of ups and downs.
Heart stopping highs.
Soul shattering lows.
And none of them are insignificant.
Love is a racecourse of unexpected twists and turns that must be negotiated. You have to break down walls, learn to trust, and heal from your past in order to win. But sometimes it's the expected that's the hardest to hold on to.
Colton has healed and completed me, stolen my heart, and made me realize our love's not predictable nor perfect—it's bent. And bent's okay. But when outside factors put our relationship to the test, what lengths will I have to go to prove to him that he's worth the fight?
Whoever said love is patient and love is kind, never met the two of us.  We know our love is worth it—have acknowledged that we were meant to be—but when our pasts crash into our future, will the repercussions make us stronger or break us apart?
Excerpt
And the only thing I can focus on—can grasp onto as my heart races and body shakes with anger—is that I need a pit stop. I need to find Colton. I need to touch him, to see him, to quiet the turmoil in my soul.
But I can't.
He's somewhere close, my rebellious rogue unable to let go of the damaged little boy within. The man who has just started healing is now broken, and it kills me that I won't be able to fix him. That my murmured words of encouragement and patient nature won't be able to repair the immobile and unresponsive body that was loaded onto that stretcher and rushed to somewhere within these walls—so close yet so very far away from me. That he has to rely on strangers to mend and heal him now. Strangers that have no idea of the invisible scar tissue that still lingers beneath the surface.
More hands reach out to touch and soothe me, Dorothea's and Quinlan's, but they're not the ones I want. They're not Colton's.
And then a terrifying thought hits me. Every time Colton is near, I can feel that tingle—the buzz that tells me he's just within reach—but I can't feel anything. I know he's physically close, but his spark is nonexistent.
Driven
Rylee Thomas is used to being in control. But she's about to meet the one man that just might make her enjoy losing it…
I am the exception to the rule.
In a world full of willing women, I'm a challenge to the roguish and achingly handsome Colton Donavan. A man used to getting exactly what he wants in all aspects of life. He's the reckless bad boy constantly skating that razor thin edge toward out of control, on and off of the track.
Colton crashes into my life like a tornado: sapping my control, testing my vulnerabilities beyond their limits, and unintentionally penetrating the protective wall around my healing heart. Tearing apart the world I rebuilt so carefully with structure, predictability, and discipline.
I can't give him what he wants and he can't give me what I need. But after a glimpse beneath his refined exterior into the dark secrets of his damaged soul, can I bring myself to walk away?
Our sexual chemistry is undeniable. Our individual need for complete control is irrefutable. But when our worlds collide, is the chemistry enough to bring us together or will our untold secrets and battle of wills force us apart?
Fueled
Book #2 of the Driven Trilogy
What happens when the one person you never expected suddenly happens to be the one you'll fight the hardest to keep?
Colton stole my heart. He wasn't supposed to, and I sure as hell didn't want him to, but he crashed into my life, ignited feelings within me that I thought had died forever, and fueled a passion that I never knew could exist.
Rylee fell out of that damn storage closet and into my life. Now I don't think I'll ever be the same. She's seen glimpses of the darkness within me, and yet she's still here. Still fighting for me. She is without a doubt the saint, and I am most definitely the sinner.
How is it the one thing neither of us wanted—neither of us anticipated that fateful night—has us fighting so hard to keep?
He steals my breath, stops my heart, and brings me back to life again all in a split second of time. But how can I love a man who won't let me in? Who continually pushes me away to prevent me from seeing the damaged secrets in his past? My heart has fallen, but patience and forgiveness can only go so far.
How can I desire a woman who unnerves me, defies me, and forces me to see that in the deep, black abyss of my soul there's someone worthy of her love? A place and person I swore I'd never be again. Her selfless heart and sexy body deserve so much more than I'll ever be capable of giving her. I know I can't be what she needs, so why can't I just let her go?
We are driven by need and fueled with desire, but is that enough for us to crash into love?